Exhibition management:

You book the space, we do the rest. Maxibit takes up overall design, liaison with main organizer/main contractor, graphic output, woodwork fabrication, booth assembly/disassembly, electricity & lighting connection.


Eco Expo: Green Mobility Innovations
Mega Show: Ad-Sonic
Book Fair: Pental
HKEF: Medel and Mebby
Food Carnival: Town Gas

Roadshows at mass transit stations, conferences venues and malls:
Just bring your men and gadgets to the space on time, and the set is ready for your reception of customers. From liaison with the venue owner to approval of exhibits to graphic production to booth assembly/disassembly, all these are on us
 

Rental, setup and dismantle of standard furniture and backdrop
Production of graphics
Mini exhibitions outside conference/convention rooms
Roving exhibitions

Event management: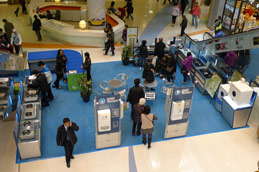 Delegate us your project, Maxibit runs it at the background with everything taken care of, freeing you to focus on making it a great memory for your VIPs. Our services include but are not limited to the creation of the governing theme, press printing of related materials, the rundown, EMCEE service, hiring of temp staff/security, arrangement of F&B, guest registration, venue decoration, cleanup afterwards.